0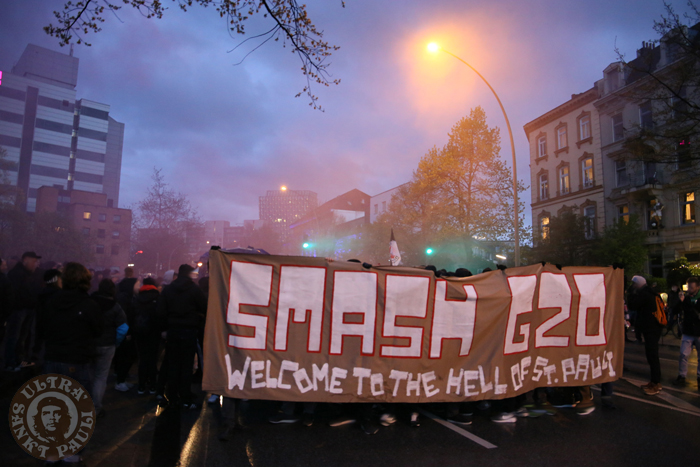 To fill this year's summer break, the federal government, in successful cooperation with the Hamburg Senate, has come up with a real treat:
This year's meeting of the G20 will take place in the heart of Hamburg, or, more precisely: at the trade fair halls (Messehallen). A lot has been written about the background to this choice, for the sake of keeping a better overview we won't repeat it all. Nevertheless it is worth saying that this will be the most interesting and most exciting, but also most exhausting days for the radical left in Hamburg for a long time. This event will definitely outclass Bambule and #2112. Whether this will be positive or negative, we don't want to judge here, this also lies in the eyes of the beholder.
The sabre-rattling on the side of authorities and police has long since started. There is massive armament taking place, special units of riot police for securing evidence and making arrests are being equipped with machine guns, new tanks are being purchased, 20,000 cops in town, there will be bodyguards of a wide range of governmental leaders armed and potentially trigger-happy, there are warnings of casualties and the entire event is happening just within spitting distance of our neighbourhoods.
Theoretically, all of this should be enough to justify taking to the streets, but the root cause of the whole charade should not be ignored or get lost amongst the fuss: the G20 are claiming themselves to represent a majority of the world's population and are pretending to sit down together in the interest of these people. It is beyond doubt, however, that this meeting is much more about geopolitical interference, the maximization of profits and the exploration of new capital markets – this is simply what the neoliberal system ensures.
There will be a wide and diverse range of possibilities to voice our discontent with this during the summit. Particularly two bigger demonstrations are to be mentioned here:
On 6 July at 16hrs, the "G20 Welcome to Hell" demonstration will kick off with a manifestation at the Fish Market (Fischmarkt). There are rumours that the announcement of the demo is already bringing beads of sweat to the Senate and the heads of police operations – whilst the autonomous movement is chomping at the bit. Despite all pre-operation assessments on the side of the police, including various nightmare scenarios, we will not be scared off and will go out and protest, for a leftist perspective and for a fair world. Wearing muted colours is recommended.
Two days later, on Saturday 8 July, more people than ever before will take to the streets in the City Centre under the motto "Solidarity without borders instead of G20", to speak up together, against the current conditions, this type of politics and their self-proclaimed "Rulers of the World" with a variety of actions: ranging from environmental federations to unions and autonomous groups, from parents' associations to religious groups and political parties. This protest will be massive and diverse to an extraordinary exten, both with regards to the range of people and the themes represented.
For more than 25 years, we have also been fighting for values within our club and within our fanbase. We have shown that another kind of football is possible and our commitment has never stopped at the stadium exit gates. Based on solidarity, FC St Pauli as a club itself, is representing a counter-model to the world of the G20 leaders and the misery produced by global capitalism as well. All St Pauli fans are therefore invited to join the St Pauli section at the major demo of various alliances on Saturday. You will recognize the section via the flags in brown and white. Together we will represent our club and will add our colours to the wide spectrum of protest.
We thereby want to provide a point of contact for all St Pauli supporters who want to march together.
Stand up for your opinion! Make your opposition heard! A better world is possible!
Apart from that, it is recommended to re-read "What to do when the going gets rough?" from the Rote Hilfe (Red Aid) which fortunately is available in different languages. There you can find useful legal tips for demos and for dealings with the state authorities.
See you at the barricades! 
What to do when the going gets rough ? – Legal tips
Übersicht Rechtshilfe-Tips der Roten Hilfe
Was Tun wenn's brennt – deutsch
Que faire en cas de feu ? – Conseil juridique
What to do when the going gets rough ? – Legal tips
Baskilara karsi ne yapmali? Adli yardim teknigi
¿Qué hacer cuando la cosa se pone caliente?
Τι κάνουμε όταν ο κόσμος γύρω καίγεται; Κρατάμε την ψυχραιμία μας!