2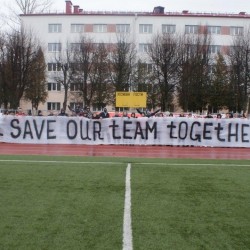 In Belarus there is a very special club. Until 2010 it was called MTZ-Ripo. The club gained international attention not so much by his sporting achievements, but also by the anti-racist commitment of its fans and an active anti-fascist fan culture that was and is unique in Eastern Europe. Today the name of the club is Partizan Minsk and it is a self-managed football club. The fans have re-established the club after the bankruptcy in early 2012. They were supported by an international solidarity campaign at the beginning of last year. In numerous actions fans from european countries drew attention to the situation of Partizan Minsk and collected money to save the club.

The new club started with 24 players, two coaches, a doctor and a new staff in the office inthe fourth belorus division, the Minsk City League. All assets, except for the coach, volunteering their services. The first season was successful. The new season is already to come. Previously, the team of Partizan Minsk will introduce themselves to the supporters from 17th to 22th March on a Solidarity Tour in Germany. There will be friendly games withthe teams of SV Babelsberg 03, FC St. Pauli, Roter Stern Leipzig as well as the football clubs Tennis Borussia and Victoria Hamburg. The young refounded club Partizan Minsk will come to Germany with his full squad including club management and fans. The tour is accompanied by meetings in Berlin, Hamburg and Leipzig. We are an alliance of active fans of Babelsberg 03 and St. Pauli, the clubs Roter Stern Leipzig, Tennis Borussia and Victoria Hamburg. We would like to introduce you to the team of Partizan Minsk, and prove that the idea of another football lives even in Eastern Europe. But to do this, we need your financial help.
Please support us and donate to the following account:
Empfänger: RoterBaum ev Leipzig
BLZ: 86020500 (Bank für Sozialwirtschaft)
KTN: 3474500
Purpose: Bildungsreise
Empfänger: RoterBaum ev Leipzig
IBAN: DE24860205000003474500
BIC: BFSWDE33DRE
Bank: Bank für Sozialwirtschaft
Purpose: Bildungsreise
In March we hope to see you at the terraces for a nice kick and have fun with the guests from belorus. Come to the matches and get informedinformed.
United for Partizan Minsk! Another football is possible!