0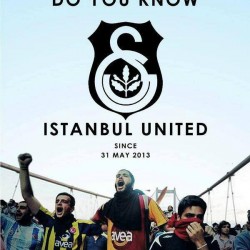 Dear comrades,
As you may know, Istanbul has been on fire since last monday. Since government-supporter media("assholes" as Kurt Vonnegut said) has been ignoring the riot, it would be so helpful if you spread our word among footbal fans over Europe.
It all started as defending a little park in Taksim called Gezi Parki (they are trying to shopping mall and residence here for big companies). After police and the prime minister Erdogan's dictatorship-like speech, with all colours of people started a riot in Taksim and then it spread to Kadikoy and other cities.
We are minority but we still have a dream about country.
Good news, all rival football teams' supporters united and took the leadership with political movements along the riots. VamosBien called all Fenerbahce fans to barricades and thousands of fans came.
We came from barricades for a little rest and we are turning to barricades again soon.
So please spread our word ampng your newtwork using these tags and website:
#occupygezi #direngeziparki
www.occupygezipics.tumblr.com
PS: GOVERNMENT IS CUTTING INTERNET CONNECTION AND SOCIAL MEDIA CHANNELS AROUND TAKSIM. SO IT IS SO IMPORTANT TO USE OUR VOICE AS MEDIA.
United we stand, divided we fall,
Salute from Istanbul,
VamosBien