0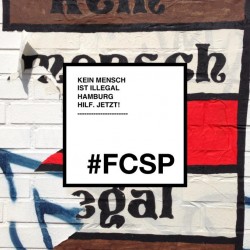 Deeply concerned, a lot of us see several hundred African refugees being left behind by the City of Hamburg for weeks. We, a group of supportes of the FC St. Pauli, are willing to gather our powers to help these refugees with their struggle for a save stay in Hamburg and a better life.
For a long time the Hamburg Senate fails in its responsibility of being the government of one of the richest cities in Europe and support those people who fled from a civil war with little more than their own lives.
That is not our Hamburg!
Whatever we can do, we will help. Therefore we urge all Hamburg citizens to get up and join us. At the moment, we are networking with the refugees themselves, with antiracist initiatives, with the churches, and with other important institutions to build up a proper plan. All you people who don't turn a blind eye to the fate of the refugees should follow these wires. We will shortly name the possibilities how you can show your solidarity and support.
We also ask the intitutions and comittees of the FC St. Pauli itself to help where the people concerned and the supporters need it.
No one is illegal!
More information:
www.magischerfc.de