0
Vamos Bien calls for international solidarity  with Amedspor's ultras group Barikat from all Antifa groups overall Europe. –
Turkey is getting through a political chaos, due to street wars happening in eastern Turkey. After peace process collapsed, government started a new phase of war in the whole country.
Now,  we are facing with this new phase in the stadiums. Amedspor, a team from Diyarbekir (Amed is the Kurdish name of the city), played against Istanbul Basaksehir, a team backed by government. Even with the 3 division difference between two clubs, first game ended with a draw even with the 2 red cards of Amedspor. On 28th of January, the second leg of the match-up took place in Istanbul and we attended the game as Vamos Bien also with our friendly group Barikat from Amedspor (Barricade in Turkish).
Before the match, in addition to the traditional precautions, they asked supporters' Identity numbers, they checked two times from shoes to deeps of your clothes. Inside of the stadium, there were riot-polices in everywhere included the away supporters' watching areas. During the match, we were with special 'sport bureau' employees of police next to our seats. In the match, in addition to the great effort by the referee to stop amazing play by Amedspor, referees didn't end the match until Basaksehir scored the second goal in the extra times to catch equality. After this score, two Basaksehir players came in front of Amedspor supporters and made a formal military salute to us. These salute was in purpose of tensing us up.
After the match, police made us waited inside of a narrow corridor and pushed us more and more. After waiting for a while, they allowed us to leave stadium one by one. We realized the reason behind that was to check the faces of fans and put us under arrest. Now, tens of our friends have taken into custody. Surprisingly, they are not in the sport bureau of police, but counter-terror branch. Against all rights according to the law, the members of Barikat has been faced with violence by the police. They have been charged with "traitor to the state, membership of terorist organisations". Members of Barikat has always been sensitive about one fact: Supporting only football team Amedspor, no direct slogans that can be used for provocation.
This shows us the pressure of police will increase against us who follows hopes in peace in the country. We know that the police and the government were offended by the chant we sang during the game; "If kids weren't be dying, they could come to games!"
Freedom for Barikat members! Freedom for Ultras!
– Vamos Bien – Fenerbahçe Ultras, Istanbul
0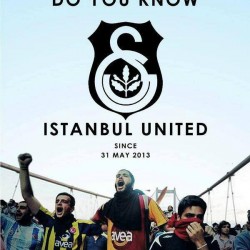 Dear comrades,
As you may know, Istanbul has been on fire since last monday. Since government-supporter media("assholes" as Kurt Vonnegut said) has been ignoring the riot, it would be so helpful if you spread our word among footbal fans over Europe.
It all started as defending a little park in Taksim called Gezi Parki (they are trying to shopping mall and residence here for big companies). After police and the prime minister Erdogan's dictatorship-like speech, with all colours of people started a riot in Taksim and then it spread to Kadikoy and other cities.
We are minority but we still have a dream about country.
Good news, all rival football teams' supporters united and took the leadership with political movements along the riots. VamosBien called all Fenerbahce fans to barricades and thousands of fans came.
We came from barricades for a little rest and we are turning to barricades again soon.
So please spread our word ampng your newtwork using these tags and website:
#occupygezi #direngeziparki
www.occupygezipics.tumblr.com
PS: GOVERNMENT IS CUTTING INTERNET CONNECTION AND SOCIAL MEDIA CHANNELS AROUND TAKSIM. SO IT IS SO IMPORTANT TO USE OUR VOICE AS MEDIA.
United we stand, divided we fall,
Salute from Istanbul,
VamosBien
0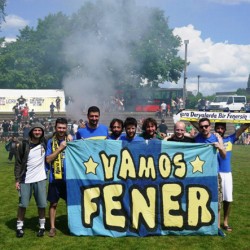 As members of Vamos Bien, we have been truly honoured to be the first group that has been invited to the Anti-Racist Tournement from Turkey. We are very thankful to our organizer colleagues from St. Pauli, especially to our sisters and brothers from Fanladen, Ultras St. Pauli and St. Pauli Skinheads, for their hospitality, company and for bringing us together with friends from other geographies of the world.
… Continue Reading